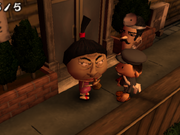 "Hee hee hee"
You first encounter Michelle at the start of the game as you spy on her and Dr. Dandy.
She is a 29-year-old maid (although she may appear older) and spends her day sweeping the streets of the town. Other townspeople are seen to have a dislike of Michelle, such as the Love Interest ("She's annoying every morning") and Batayan ("I don't like her"). The feelings seem to be mutual, as Michelle only likes Mr. Cheapot.
She is a patient of Dr. Dandy, and has "Gninaelc disease.", which is backwards for "Cleaning Disease".
When viewing a movie at the cinema with Goro, she is the only other person sitting in the audience.
How to Kiss
Edit
Get a Good Eggplant by buying seeds at Mr. Cheapot's store and going to Scarecrow Field. Plant the seeds in the field near the vegetable stand in the narrow portion, and the eggplant should grow immediately*. Then ring Michelle's doorbell after 10pm. You don't have to get whacked with as many pots and pans as this, though. [[1]]
After you've kissed Michelle, she decides to leave the "Complaintpot" group, and can now be seen eating eggplants out of her pot when she pauses from sweeping.
Note: * Other vegetables randomly grow using the seeds including Good Radishes and Good Cabbages.