"T minus (660 - 1) seconds...
Mr. Apollo

Character art of Mr.Apollo (アポロさん)

Location

3-3 Long Life Town

Time

1:00PM-2:55PM

Risk

1 heart

Drops

80z

Hobby

Orbiting

Age

59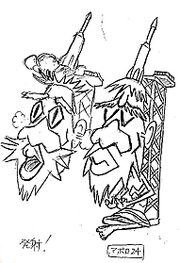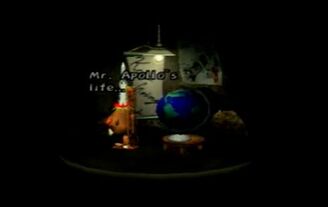 Mr. Apollo is an underground resident who can be found in the bottom corner of the empty lot near your house. In his room are posters, one of which is a diagram of a space-faring rocket and the other reading "Keep going".
How to Kiss
Edit
Wait for him to launch out of the ground and land upright. If he has a bad landing and lands on his head, you will have to try again. Where the player is standing has an effect on his landing. Standing on the spot where he lands will increase his 'successful landing' chance dramatically, if not 100%.
In the original sketch of Mr. Apollo, it depicts only the rocket on his head flying off, whereas in the actual game, his entire body flies up.
Mr. Apollo seems to say "Namaste" upon being kissed. This is a traditional Hindu expression typically used to say "farewell" although it more literally translates as "I bow to the divine in you." This combined with the overall physical design of Mr. Apollo would seem to indicate he is Indian.